Trauma and Acute Care Surgical Services
Serving Pierce County and the Washington State Trauma West Region
The designated Tacoma trauma hospital of the day alternates daily between St. Joseph Medical Center and Tacoma General Hospital
September

2023

Mon
Tue
Wed
Thu
Fri
Sat
Sun

2

St. Joseph Medical Center

•

4

St. Joseph Medical Center

•

6

St. Joseph Medical Center

•

8

St. Joseph Medical Center

•

10

St. Joseph Medical Center

•

12

St. Joseph Medical Center

•

14

St. Joseph Medical Center

•

16

St. Joseph Medical Center

•

18

St. Joseph Medical Center

•

20

St. Joseph Medical Center

•

22

St. Joseph Medical Center

•

24

St. Joseph Medical Center

•

26

St. Joseph Medical Center

•

28

St. Joseph Medical Center

•

30

St. Joseph Medical Center

•
Trauma Trust is a 501(c)(3) not-for-profit organization that is jointly supported by two major independent health care systems in Tacoma, WA. We serve the two hospitals (St. Joseph Medical Center and Tacoma General Hospital) that together comprise the Tacoma Trauma Center, a State – designated Level II trauma center providing advanced trauma, critical care and emergency general surgery services for Tacoma, the Washington State West Trauma Region and beyond.
Trauma Trust also provides trauma education for professionals and injury prevention education for the public.
2023 Tacoma Trauma Conference
Greater Tacoma Convention And Trade Center November 3, 2023
Check back soon for program and registration information
Health care professionals with an interest in trauma care will appreciate presentations and demonstrations covering a wide range of topics
OVER THE YEARS, WE'VE HAD SPECTACULAR DEMONSTRATIONS AT THE TACOMA TRAUMA CONFERENCE. Memorably, THE TACOMA FIRE DEPARTMENT once DEMONSTRATED VEHICLE EXTRACTION. ANOTHER YEAR, MADIGAN ARMY MEDICAL CENTER STAFF PRESENTED AN IMPRESSIVE ACTIVE SHOOTER DEMONSTRATION!
Our group of surgeons and APP's provide diverse inpatient care that include: trauma and emergency general surgery, critical care and elective general surgery services
The Tacoma Trauma team is partnering with the Tacoma Police Department to find ways to mitigate gun violence in our city.  Gun violence has increased dramatically in Tacoma as it has in other major US cities.  A project is underway to address this problem among the Tacoma youth.  A presentation is being planned for this Spring.  Details to follow.
Read More »
(REBOA)  Resuscitative Endovascular Balloon Occlusion of the Aorta Dr. Erik Roedel, (Madigan Army Medical Center), presents to our trauma team, his experience using this minimally invasive technique to gain temporary control of life- threatening hemorrhage.  
Read More »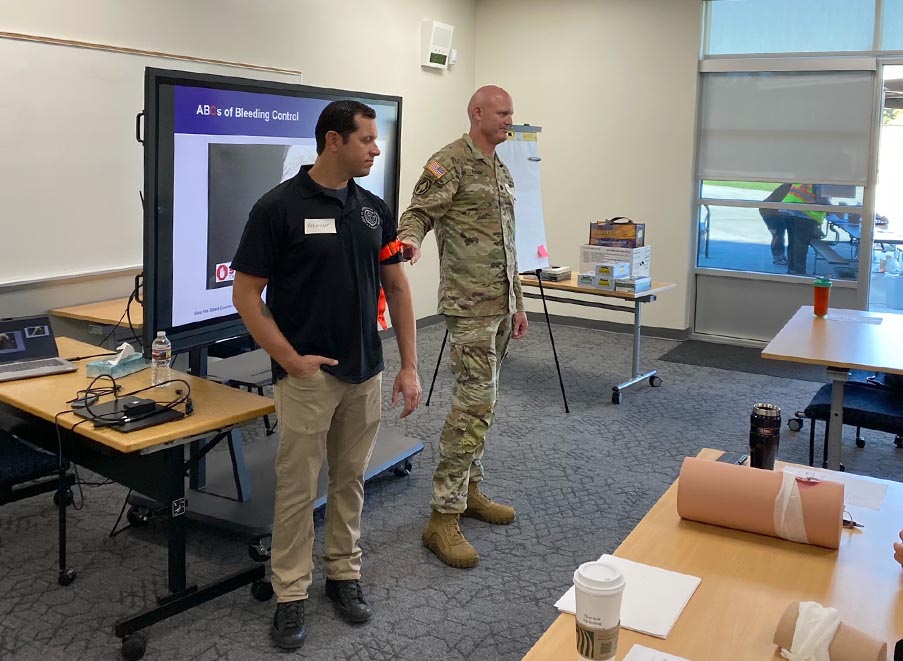 Three Tacoma Trauma and Critical Care physician assistants who are also mothers of school-aged children, (Tiffany Crabb, Katrina Flowers-Piercy and Shelly Voigt), collaborated with Dr. Quinton Hatch of Madigan Army Medical Center to teach a "Stop The Bleed" class at a Gig Harbor elementary school. Not long after the Uvalde school shooting tragedy, we were all reminded of the need to prepare for such events. The class was enthusiastically received by the participating students and…
Read More »
We support Pierce County's Fall Prevention Coalition
Falls Free is a Pierce County project to reduce the risk of falling among our seniors.  This excellent video was produced by The Fall Prevention Coalition with Dennis Bounds narrating.